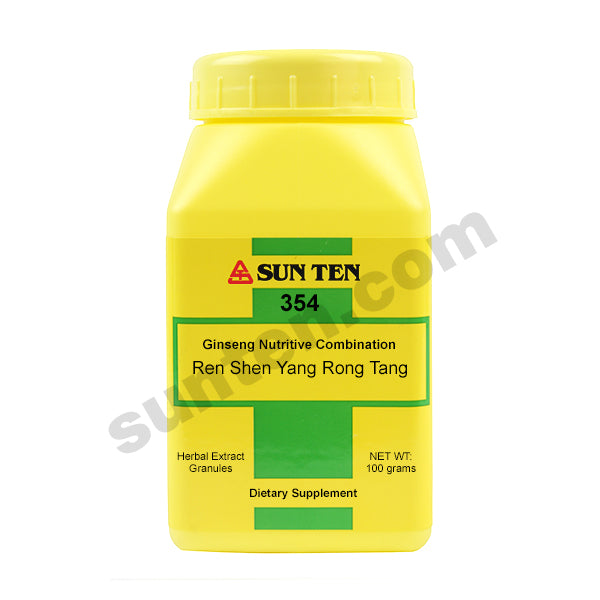 Ren Shen Yang Rong Tang
Ginseng Nutritive Combination Granules | 人參養榮湯
Practitioners: Please LOGIN to view wholesale price. This item can only be purchased by a licensed practitioner. Find a practitioner
Ingredients: Radix Paeoniae alba (bai shao), Rhizoma Zingiberis recens (sheng jiang), Radix Angelicae sinensis (dang gui), Cortex Cinnamomi (gui xin), Radix Glycyrrhizae praeparata cum melle(zhi gan cao), Pericarpium Citri reticulatae (chen pi), Radix Ginseng (ren shen), Rhizoma Atractylodis macrocephalae (bai zhu), Radix Astragali (huang qi), Radix Rehmanniae praeparata (shu di huang), Fructus Schisandrae chinensis (wu wei zi), Poria (fu ling), Radix Polygalae (yuan zhi), Fructus Jujubae (da zao).
Mandarin: 人參養榮湯
Pin-Yin: Ren Shen Yang Rong Tang
English: Ginseng Nutritive Combination
Romaji: Ninjin Yoei To
Kanji: 人參養榮湯
Kampo: Yes
Source:
Formulas of the Bureau of the People's Welfare Pharmacy (Tai Ping Hui Min He Ji Ju Fang, 1078)
How it works:
Tonifies qi and blood
Nourishes the heart
Calms the spirit
Warms yang
Strengthens the lungs and spleen
Clinical Applications:
Internal impairment caused by overstrain
Qi, yang, and blood deficiency
Pale tongue with thin white coating
Ren Shen Yang Rong Tang is an ancient formula that was first recorded in Song dynasty's "Formulas of the Bureau of the People's Welfare Pharmacy" to help treat qi, yang, and blood deficiency as well as internal impairment by tonifying qi and blood.
| | |
| --- | --- |
| English Name | Pin-Yin Name |
| Ginseng | Ren Shen |
| Peony | Shao Yao |
| White Atractylodes | Bai Zhu |
| Hoelen | Fu Ling |
| Angelica Root | Dang Gui |
| Cooked Rehmannia | Shu Di Huang |
| Astragalus | Huang Qi |
| Citrus Peel | Chen Pi |
| Cinnamon Bark | Gui Pi |
| Schizandra | Wu Wei Zi |
| Polygala | Yuan Zhi |
| Baked Licorice | Zhi Gan Cao |
Main Ingredient(s):
In this formula, Ginseng strongly tonifies source of qi while augmenting the qi of the lungs, spleen, and heart. Ginseng also calms the shen.