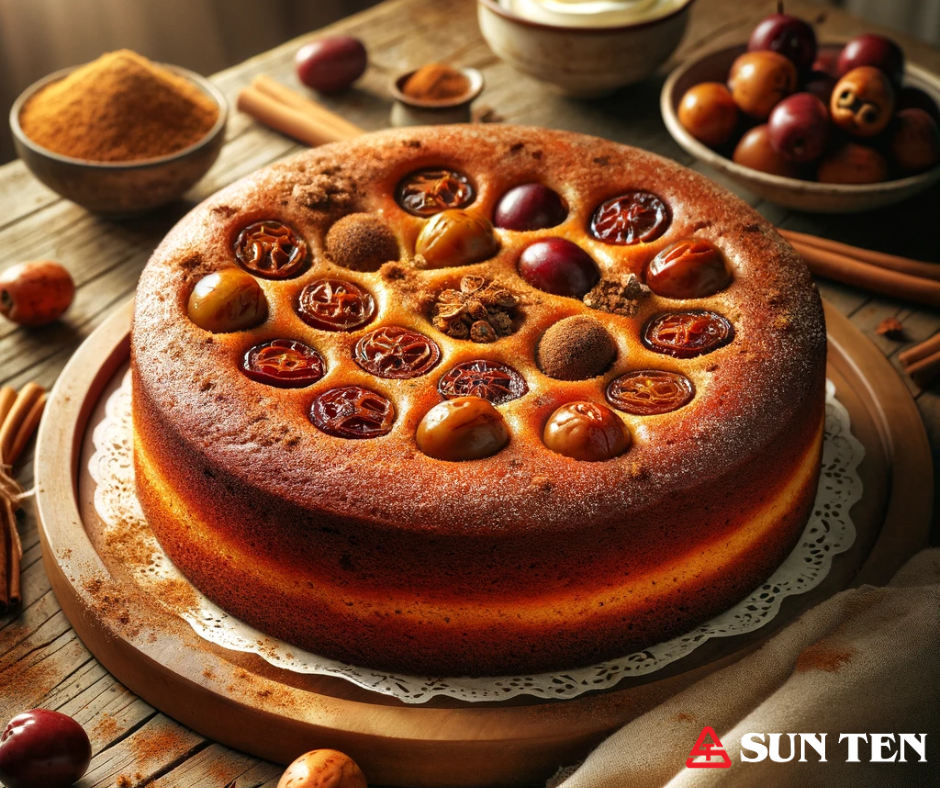 Cinnamon and Jujube Fruit Cake
Ingredients
For the Cake:

1 cup dried jujube fruits (also known as red dates), pitted and chopped
2 cups all-purpose flour
1 tsp baking powder
1/2 tsp baking soda
2 tsp ground cinnamon
1/2 tsp salt
1/2 cup unsalted butter, at room temperature
3/4 cup granulated sugar
2 large eggs
1 tsp vanilla extract
1 cup buttermilk

For the Topping:

1/4 cup brown sugar
1 tsp ground cinnamon
1/2 cup chopped walnuts or almonds (optional)
Instructions
Preparation:

Preheat your oven to 350°F (175°C).
Grease and flour a 9-inch round cake pan.

Mix Dry Ingredients:

In a medium bowl, whisk together the flour, baking powder, baking soda, cinnamon, and salt.

Cream Butter and Sugar:

In a large bowl, beat the butter and granulated sugar together until light and fluffy.
Add the eggs, one at a time, beating well after each addition.
Stir in the vanilla extract.

Combine Wet and Dry Ingredients:

Add the dry ingredients to the butter mixture in three parts, alternating with the buttermilk. Begin and end with the dry ingredients.
Fold in the chopped jujube fruits.

Pour and Sprinkle Topping:

Pour the batter into the prepared pan.
In a small bowl, mix together the brown sugar, cinnamon, and nuts if using. Sprinkle this mixture over the batter.

Bake the Cake:

Bake for 35-40 minutes or until a toothpick inserted into the center comes out clean.

Cooling:

Let the cake cool in the pan for 10 minutes, then turn out onto a wire rack to cool completely.

Serve:

Slice and serve the cake as is, or with a dollop of whipped cream or a scoop of vanilla ice cream.
Enjoy your Cinnamon and Jujube Fruit Cake, a perfect treat for any occasion!