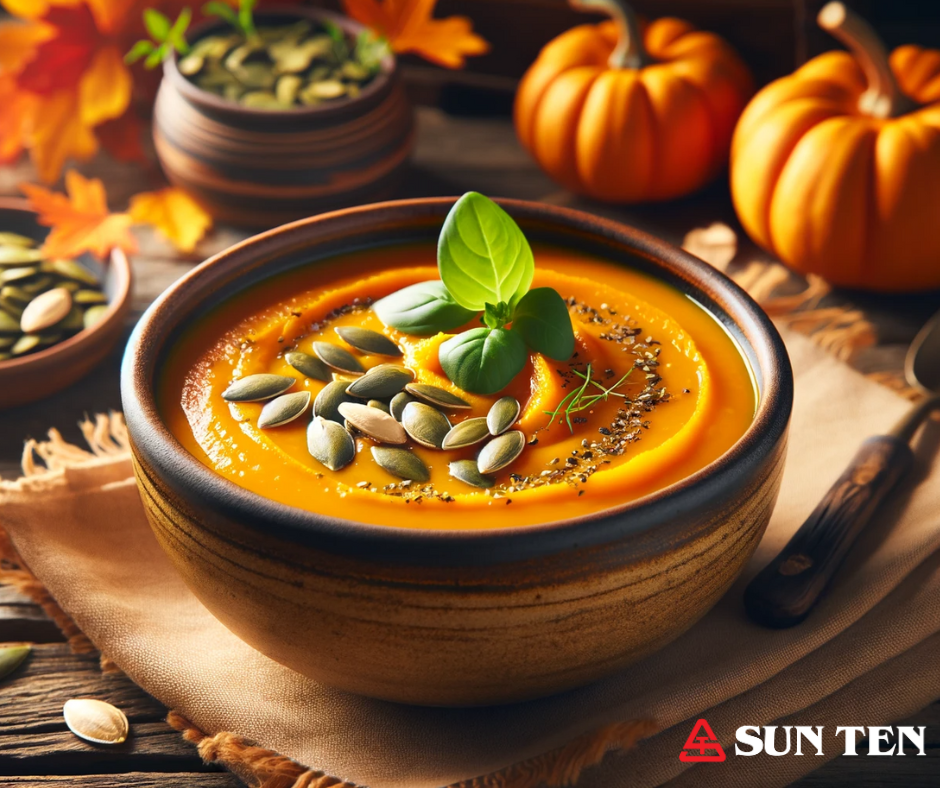 Ginger-Spiced Pumpkin Soup Recipe
Ingredients:
1 tablespoon olive oil
1 medium onion, chopped
2 garlic cloves, minced
1 tablespoon fresh ginger, grated
1 teaspoon ground cinnamon
½ teaspoon ground nutmeg
4 cups pumpkin puree (fresh or canned)
4 cups vegetable broth
1 cup coconut milk (or heavy cream for a richer soup)
Salt and pepper to taste
Optional: pumpkin seeds and fresh herbs for garnish
Instructions:
Sauté Aromatics: In a large pot, heat the olive oil over medium heat. Add the chopped onion and sauté until translucent, about 5 minutes. Add the minced garlic and grated ginger, and cook for another minute until fragrant.

Add Spices: Stir in the cinnamon and nutmeg, cooking for another minute to release their flavors.

Cook Pumpkin: Add the pumpkin puree to the pot and mix well with the aromatics and spices.

Add Broth and Simmer: Pour in the vegetable broth and bring the mixture to a boil. Once boiling, reduce the heat and let it simmer for about 20 minutes, allowing the flavors to meld together.

Blend Soup: Using an immersion blender, blend the soup directly in the pot until smooth. You can also use a regular blender, working in batches if necessary.

Stir in Coconut Milk: Add the coconut milk (or heavy cream) to the soup, stirring well to combine. Heat through.

Season to Taste: Add salt and pepper to taste. Adjust the seasoning as needed.

Serve: Ladle the soup into bowls. Garnish with pumpkin seeds and fresh herbs if desired.

Enjoy: Serve hot, perfect for a chilly day!
This ginger-spiced pumpkin soup is a delightful blend of sweet and spicy flavors, making it a perfect starter for a fall dinner or a comforting meal on its own. Enjoy!